FAAの筆記試験(Knowledge Exam)について。 :  Privateの筆記試験について : PVTの問題へ : IFR、筆記の解説 : IFR問題へ
Private Pilot : 2007年 Airman Knowledge Test Question (Written Exam)
161.
Rapid or extra deep breathing while using oxygen can cause a condition known as
A) hyperventilation.
B) aerosinusitis.
C) aerotitis.
162.
Which technique should a pilot use to scan for traffic to the right and left during straight-and-level flight?
A) Systematically focus on different segments of the sky for short intervals.
B) Concentrate on relative movement detected in the peripheral vision area.
C) Continuous sweeping of the windshield from right to left.
163.
How can you determine if another aircraft is on a collision course with your aircraft?
A) The other aircraft will always appear to get larger and closer at a rapid rate.
B) The nose of each aircraft is pointed at the same point in space.
C) There will be no apparent relative motion between your aircraft and the other aircraft.
164.
If a pilot experiences spatial disorientation during flight in a restricted visibility condition, the best way to overcome the effect is to
A) rely upon the aircraft instrument indications.
B) concentrate on yaw, pitch, and roll sensations.
C) consciously slow the breathing rate until symptoms clear and then resume normal breathing rate.
165.
Pilots are more subject to spatial disorientation if
A) they ignore the sensations of muscles and inner ear.
B) body signals are used to interpret flight attitude.
C) eyes are moved often in the process of cross-checking the flight instruments.
166.
The danger of spatial disorientation during flight in poor visual conditions may be reduced by
A) shifting the eyes quickly between the exterior visual field and the instrument panel.
B) having faith in the instruments rather than taking a chance on the sensory organs.
C) leaning the body in the opposite direction of the motion of the aircraft.
167.
The correct method of stating 4,500 feet MSL to ATC is
A) 'FOUR THOUSAND FIVE HUNDRED.'
B) 'FOUR POINT FIVE.'
C) 'FORTY-FIVE HUNDRED FEET MSL.'
168.
The correct method of stating 10,500 feet MSL to ATC is
A) 'TEN THOUSAND, FIVE HUNDRED FEET.'
B) 'TEN POINT FIVE.'
C) 'ONE ZERO THOUSAND, FIVE HUNDRED.'
169.
Pilots flying over a national wildlife refuge are requested to fly no lower than
A) 1,000 feet AGL.
B) 2,000 feet AGL.
C) 3,000 feet AGL.
170.
(Refer to figure 21, area 2.) The elevation of the Chesapeake Regional Airport is
A) 20 feet.
B) 36 feet.
C) 360 feet.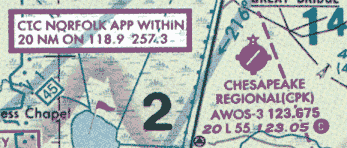 }Figure 21, Area 2 この問題の和訳と解説 : Chartの空港情報に関する読み方の説明
Private Pilot Knowledge Test (Private Written Exam) 05/23/2007 :
2008年の問題へ